Anaplastic Large Cell Lymphoma, has been diagnosed in 660 breast implant patients according to the U.S. Food and Drug Administration (FDA). BIA-ALCL (Breast Implant- Associated ALCL) is a type of non-Hodgkin's lymphoma which is cancer of the immune system. A MedWatch Alert: Breast Implants: Letter to Health Care Providers – Due to Associated-Anaplastic Large Cell Lymphoma was just added to the FDA Letter to Health Care Provider webpage. 
BIA-ALCL is typically in scar tissue and fluid near the implant, but may spread throughout the body. Nine of the women diagnosed have died as of September 2017.
10 to 11 million women worldwide have breast implants with data indicating the ALCL-BIA occurrence more frequently in implants with a textured surface than in smooth surface implants. However, ALCL can occur in both saline and silicone implants. The FDA cautions that patients with smooth surface implants are still at risk of developing ALCL. The reality is most patients are not likely to be aware of what surface their implants consist of, and multiple factors may contribute to the develop of ALCL, including patient characteristics, operative procedure history, implant characteristics and duration of placement.
Currently in the United States, there are FDA-approved implants manufactured by Ideal Implant, Inc.; Allergan; Mentor (Johnson & Johnson); and Sientra, Inc. Lawsuits have been filed against Allergan and Johnson & Johnson on behalf of breast implant patients diagnosed with BIA-ALCL.
The World Health Organization, Plastic Surgery Foundation and regulatory bodies have all recognized BIA-ALCL as a unique form of ALCL and have provided information and resources regarding the disease. BIA-ALCL has generally only been identified in patients exhibiting late-onset symptoms such as pain, lumps, swelling and breast asymmetry. Most patients will have spontaneous fluid collection; 40 percent will feel a mass or lump. Diagnosis of BIA-ALCL is possible with a screening test called CD30 and can be missed without adequate screening.
Breast implants have been recalled in Europe due to the risk of BIA-ALCL. The implants manufactured by Allergan are textured breast implants. The manufacturer said it "has suspended sales of textured breast implants and tissue expanders and is withdrawing any remaining supply" in Europe. It will still be offered in the U.S.
If you or a loved one has been diagnosed with BIA-ALCL, contact us at 1-800-814-4540 for a free consult. Deadlines apply, so contact us now.
Breast Implant Claims
$50 Million To Be Released
On December 13, 2018, the 6th Circuit Court of Appeals ruled on the Premium Payment Issue authorizing the disbursal of fifty percent of second-priority payments. This Decision pertains to those claimants who did not receive their first 50% payment. Please click here to see the Decision.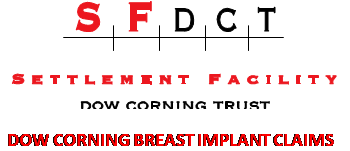 The Settlement Facility – Dow Corning Trust ("SF-DCT" or Settlement Facility) is the claims office that processes and pays claims in the Dow Corning breast implant settlement. The Dow Corning Plan provides that the settlement program will terminate after 15 years which means that the program will stop accepting claims on June 3, 2019. All claims, documents, and submissions must be sent to the Settlement Facility on or before June 3, 2019. They must be postmarked on or before June 3, 2019 or they will not be considered. There will be no extensions.
You may receive or may have previously received a letter from the Settlement Facility giving you a deadline to cure deficiencies in a claim. The June 3, 2019 final deadline DOES NOT CHANGE any deadline in a letter from the Settlement Facility. If you have any questions about your deadline, contact the Settlement Facility. If you do not comply with your deadline, your claim will be denied.
Go to the SF-DCT website or contact the Settlement Facility for information about your claim and rights. The Settlement Facility has posted a Notice with details about: how to apply for either the Expedited Release or Disease Payment, how to apply for an Increased Severity disease claim, how to submit an appeal to the Claims Administrator and Appeals Judge, and how to get claim forms and other information to help you file a claim. All documents and forms are on the websites below or call the Settlement Facility to get any form or document mailed to you. Please keep your address current.
Settlement Facility Contact Information:
Phone: 1-866-874-6099
Email: info@sfdct.com
Website: www.sfdct.com or www.dcsettlement.com
Mailing address: Settlement Facility; P.O. Box 52429; Houston, TX 77052-2429
Claimants' Advisory Committee Contact Information:
Phone: 419-394-0717
Email: info@tortcomm.org
Website: www.tortcomm.org
Facebook: Claimants' Advisory Committee, Dow Corning Breast Implant Claims

FINAL DEADLINE: JUNE 3, 2019. NO EXTENSIONS.
JULY 2018
Click here for the Summary of Closing Order 1 dated 7-25-18 (re: Doc #1447 found under Court Orders)
FEBRUARY 5, 2018
The Settlement Facility mailed a letter last week letting everyone who filed a Proof of Claim in the Dow Corning bankruptcy know that the Settlement Facility will be terminating the settlement program next year. The Settlement Facility was originally set up to begin paying claims in 2004 and to last for 15 years. The end of that 15 year period is June 3, 2019. All claims must be submitted on or before June 3, 2019 or they will be barred. We know that many of you may have questions about what this means, so we have developed a Q&A (Questions and Answers) that can provide you with information. The Q&As are posted on this website under the tab called "Claimant Information Guide and Questions and Answers." Click on the link that says "Q&As about the Closing of the Settlement Facility."
The Settlement Facility office will not close on June 3, 2019. This is a deadline to file claims and submit any and all documents to have a claim reviewed and paid. The Settlement Facility office will remain open to review and process all claims until all approved claims have been paid.
The final Premium Payment for approved Rupture and Disease claims, as well as approved Increased Severity disease claims, will likely be made sometime after the June 3, 2019 deadline when all claims have been reviewed. This may take several months or longer to complete, so it is more likely that any Premium Payment would be made in 2020.
JANUARY 26, 2018
Yesterday, Dow Corning filed a Notice of Appeal regarding the District Court's Order authorizing Second Priority Payments (Premium Payments). In addition, Dow Corning filed a Motion to Stay the Court's Order, asking the Court to stop the Settlement Facility from sending out Premium Payments until the matter is resolved before the Court of Appeals. The CAC intends to file a response to this motion, opposing it, and asking the Court to allow the remaining partial Premium Payments to be sent. We will post copies of all the motions and documents on this website.
JANUARY 23, 2018
Attorneys Willing To Assist Registered Claimants with a Disease Claim
The following law firms have offered to accept new clients who wish to submit a Disease claim in the Settlement Facility. To be eligible, women must have filed a Proof of Claim in the case and must be able to establish that they have or had a Dow Corning breast implant. The CAC does not endorse any law firm or attorney, nor do we guarantee that any claim will be approved simply because you are represented by an attorney.
JANUARY 23, 2018
On January 31, 2018, the Settlement Facility will begin mailing a court-approved Notice about the final claims submission deadline of June 3, 2019 and the closing of the Settlement Facility offices shortly after that when all claims are processed and paid. There will also be an online Questions and Answers that will have more detailed information about the FINAL CLAIMS SUBMISSION DEADLINE. It will be available on or after February 1, 2018 here on the CAC website and on the Settlement Facility website. Please read through all the material carefully and confirm your status and contact information directly with the Settlement Facility at the number / email listed below.